Our goal is to keep your tools organized so you can focus on your projects, not on finding the right tool. Many of our organizers have unique sizing features that allow you to sort as you store so that your tools are always stored in the right place.
Tool Sorter organizers are made of ABS plastic and built tough to withstand everything your projects entail. They undergo rigorous stress testing that includes fully loaded drop tests and even being run over by a pickup truck. Check out our YouTube channel to see testing in progress.
All of our organizers are designed and manufactured in the USA.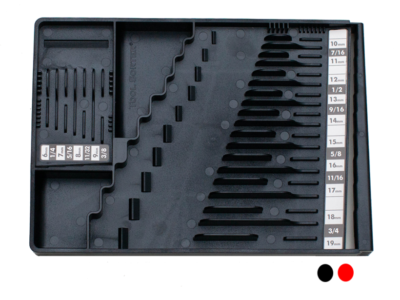 Durable, high quality organizer – Made in USA

Slide – Flip – Store As simple as that!

Holds wrenches from 1/4″ to 3/4″ (7mm-19mm) (lengths 6.5″ – 9.5″)

Works for SAE and metric wrenches

Compact & Portable – measures 13.5″ x 10″ x 1.5″

Designed for drawer use – wrenches are not clipped or held tightly in place
Tools not included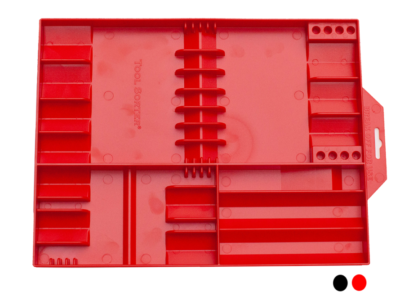 Durable, high quality organizer – Made in USA

Space for 16 screwdrivers and 8 bits

Storage section for large, small, off-set, stubby screwdrivers and bits

Compact & Portable – measures 13″ x 10″ x 1″

Designed for drawer use – tools not clipped or held tightly in place
Tools not included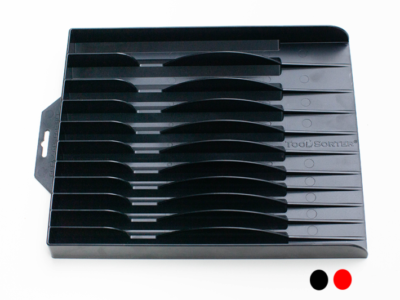 Durable, high quality organizer – Made in USA
Space for 11 pliers or other long narrow tools

Holds narrow and wide tools – compartments range from 0.58″ to 1.15″

Store longer tools in open-ended tray

Compact & portable – measures 12″ x 10″ x 1.25″

Designed for drawer use – tools not clipped or held tightly in place
Tools not included
Durable, high quality organizer – Made in USA
Quick & easy sorting with unique sorting bolts
Works for metric and SAE sockets

Holds sockets from 3/8″ to 1″ and 10 mm to 19 mm

Compact & Portable – measures 14.5″ x 11″ x 1″

Designed for drawer use – sockets stored on their sides – not clipped in place

Tools not included
Durable, high quality organizer – Made in USA
Quick & easy sorting with unique sorting bolts
Works for metric and SAE sockets
Holds sockets from 5/32″ to 7/16″ and 4 mm to 11 mm
Compact & Portable – measures 7.8″x8.25″x0.6″

Designed for drawer use – sockets stored on their sides – not clipped in place

Tools not included