Best Value – Tool Sorter Screwdriver Organizer
If you prefer to store your tools out of sight, this drawer style organizer is the right choice. It features molded slots to hold different screwdrivers in place and fits into most standard drawers or tool chests. It features space for up to 16 screwdrivers and eight different bits on a heavy-duty housing and will accommodate large, standard, and stubby styles of screwdrivers. It measures 13 inches by 10 inches by 1 inch.
5. Best Screw Driver Organizer—Tool Sorter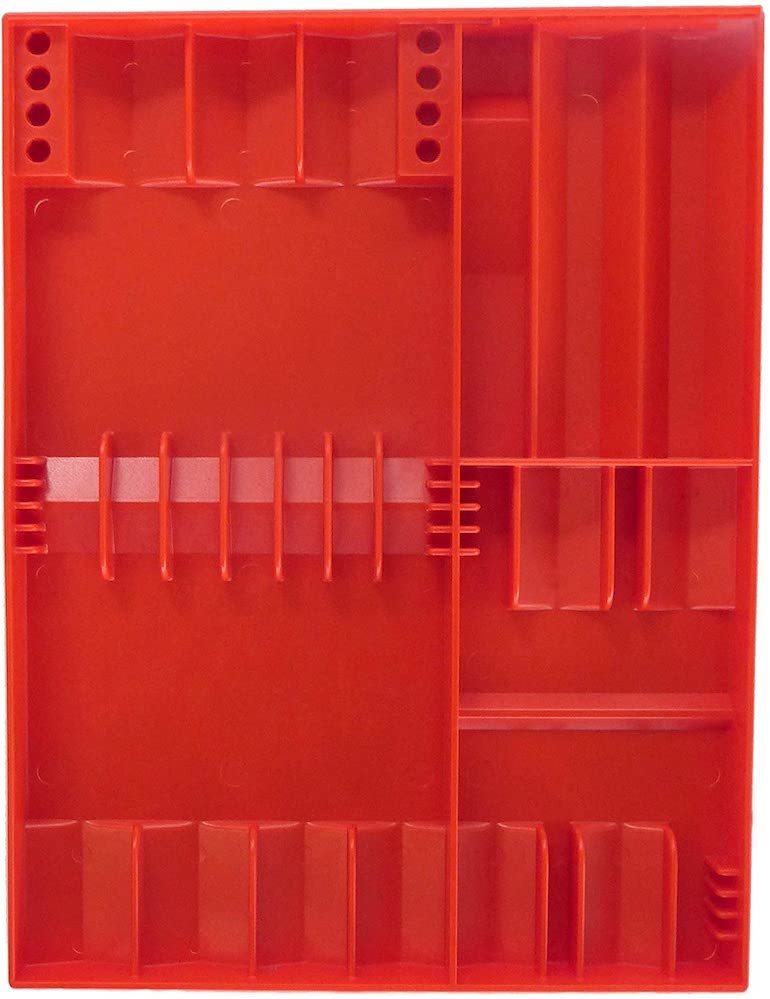 7. Tool Sorter Screwdriver Organizer Black
Highlighted Features
Specific tool storage compartments with excellent visibility
Ability to store 16 different screwdrivers and 8 screws at the same time
Visible display to eliminate the need for labeling
Minimal product direction for superb portability
Nail hole to hang from a wall
One of the biggest problems of having a tool organizer is the lack of visibility. In most cases, these items happen to have opaque compartments. Therefore, they require labeling, which can dent its aesthetics and increase the overall hassle. In that regard, this option is very convenient as it displays all the tools openly for you to pick out easily.
Best for screwdriver sets
Bottom Line: Great for standard-sized screwdriver sets, this organizer fits most tool cart drawers well.
Pros: Does a great job of holding screwdrivers in one spot inside a tool drawer, thanks to molded dividers. Has a variety of compartment sizes.
Cons: Not wide enough to hold complete screwdriver sets, in some case. No slots for larger or longer-handled screwdrivers.
Best Tool Trays of 2021 Rank #13 | Top ranking screwdriver organizer based on 226 reviews
Features compact design that allows easy carrying while traveling
Built-in 13.5 x 10.25 x 1.75 inches tray can store 16 screwdrivers and 8 bits easily
Comes with storage section that makes it easy to use
Not suitable for large screwdrivers